==========>
-|Cry5!s|-t3aM*
<==========
LoGOul ClanuLUi NosTRu: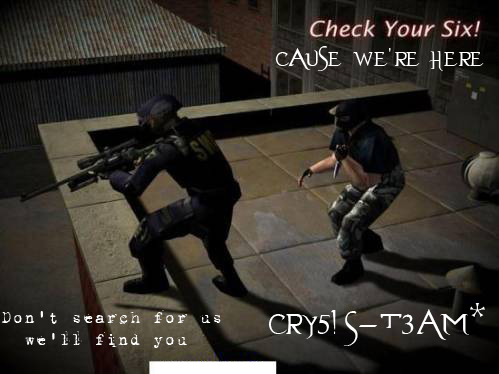 TAG :
-|Cry5!s|-
Clan Leader : -|Cry5!s|-Anon!m*<cL> known as "AWP-Elite ShooTeR" Strategic Player ID de contact: iulian_20cm
Second Leader : -|Cry5!s|-Juve*<sL> his aim is probably the best of the clan
JucaTorII ClanuluI :
-|Cry5!s|-DaNGeR* "Anytime is good for some WaRs"
-|Cry5!s|-Reinheart* "SG 550 /August his Favourite Weapon " known as "RDD-Reinheart Doesn`t Dye"
-|Cry5!s|-Adriano* known as "king of Frags"
-|Cry5!s|-band3ras* "Always count on me"
-|Cr5!s|-[Ammit]* He has a good aim
>+_+_+_+_+--
Cautam Membri Pentru CLan
Detalii la rubrica Inscrieri
--+_+_+_+_+<
_________________
Munca InoBileaza Fraerii !!!